Learn around a dish. This sentence can sum up the idea behind Taghmees Social Kitchen, an experiential learning platform founded by Dina Bataineh and Reef Fakhouri, located in Amman's Webdeh neighborhood.
The drive behind this initiative is the questioning of how we learn. "We began thinking about it and we came up with the idea of food, because it is about how we eat and also how we learn while we spend time in a family sharing meals," said Bataineh. "These spaces become like 'generation spaces'. We learn a lot about how to be people in a community, and that seems the perfect kind of model for learning."
Their name is in agreement with that philosophy. In Arabic, taghmees means the act of dipping and is often used to refer to the dipping by hand into food with bread. For Bataineh and Fakhouri, it means also "the act of immersing yourself deeply into anything".
From that consideration was born the concept of a social kitchen. For the founders, a social kitchen is "a space for creation, where we are all equal, where we can learn and teach, where we can all create together", states their presentation brochure. The concept also implies working with what is available. "You mix the ingredients and you put them together in order to try to make something that the people will enjoy," explained Bataineh. "Sometimes you make a mess, but there is always a chance to learn and to clean up afterwards."
The most important thing at the end is the people. "When we get together, we share the ingredients and stories and we are able to break these barriers between people by actually allowing learning to happen," affirmed Bataineh.
In order to arrive at this point, Taghmees relies on a set of different activities. For example, what they call 'strengthening home-based economies'. "We provide jarred, home-made products that are in season, using traditional preservation methods, coming from various kitchens all over Jordan," expressed Bataineh.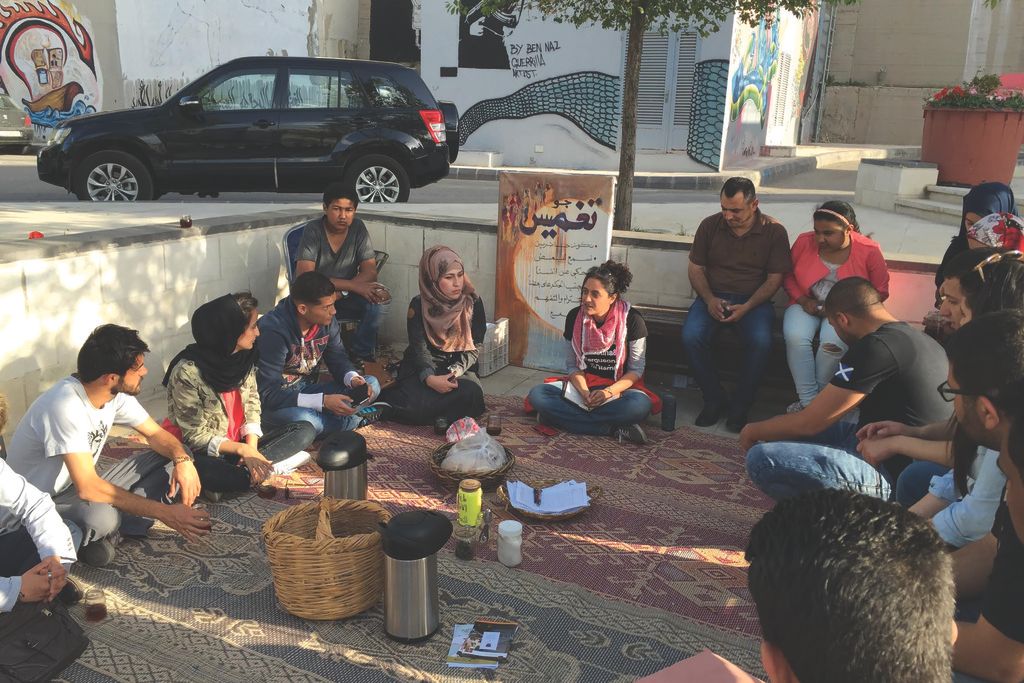 This initiative supports various aims. On one side it provides alternative economic opportunities to these home-producers. On the other side, it keeps alive the knowledge of traditional ways of cooking and conserving products, in addition to helping the environment. "To avoid adding more unnecessary consumerist waste, we are constantly collecting used jars for conservation and reuse," emphasized Bataineh.
During harvest season, Taghmees lends a helping hand with collecting crops. Last year, they had been working in a farm picking green beans and then returned to their center in Amman and sat around peeling the beans while sharing stories and music.
Another activity is what they have named "Taghmeeseh". This activity consists of holding a gathering in a public place twice a month that is open to the public. During the meeting, participants share their views or experiences on a specific topic "that stems from life", explained the founders.
"Our taghmeeseh is a way for us to make sense of our world together with our community, using critical conversations to understand the meaning in our life experiences," recalled Bataineh. To be successful, the conversations should be "honest, self-reflective and critical, in order to learn about ourselves, each other, and the topic at hand," states the brochure.
But taghmees has not been limited to Jordan. The idea has spread to Palestine, Lebanon, Egypt, Costa Rica and Portugal. "It has no boundaries because the idea is that learning is a biological thing, not something that should be monopolized by any institution," criticized Bataineh. "We see each person as being an expert or a PhD of their life and each one of us when we come together and we share, we are able to learn more from each other," added the co-founder.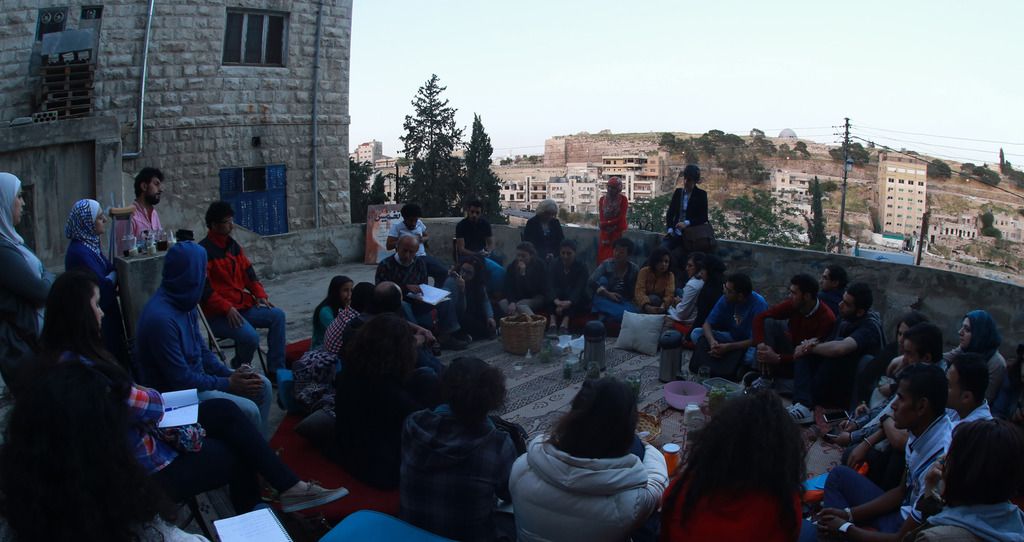 During the five years that they have been active, they have seen people from different ages and different ways of life join in, but the nice thing is to see "how taghmees is integrated into their lives", claimed Bataineh. Among them, there have been filmmakers, photography projects or documentary film agencies outside of the dominant mainstream. "We had one 16-year-old participant that really liked the theatre. He wrote his own 5-minute script and shared it with us. We worked with him to develop it into a 25-minute one and we put him in contact with local theatres," recalled one of the founders.
"Many of these people were considered failures, the ones who did not pass the tawjihi (secondary education exam in order to access the university). But now that they see learning as something not limited to a certification, they have been able to start exploring all of their options and work for their passion," said Bataineh.
The strongest point of this platform is that "people think about it as an attitude and not as an organization".
"[It] is just about recognizing that this is how learning happens. If you allow yourself to see your entire life as a school, your own perception shifts and with it your practices, behavior and attitude toward life," concluded Bataineh.