In the just-released Yale Environmental Performance Index, MENA countries enter the global rankings with Tunisia at number 53 out of 180, while Sudan trails at rank 170.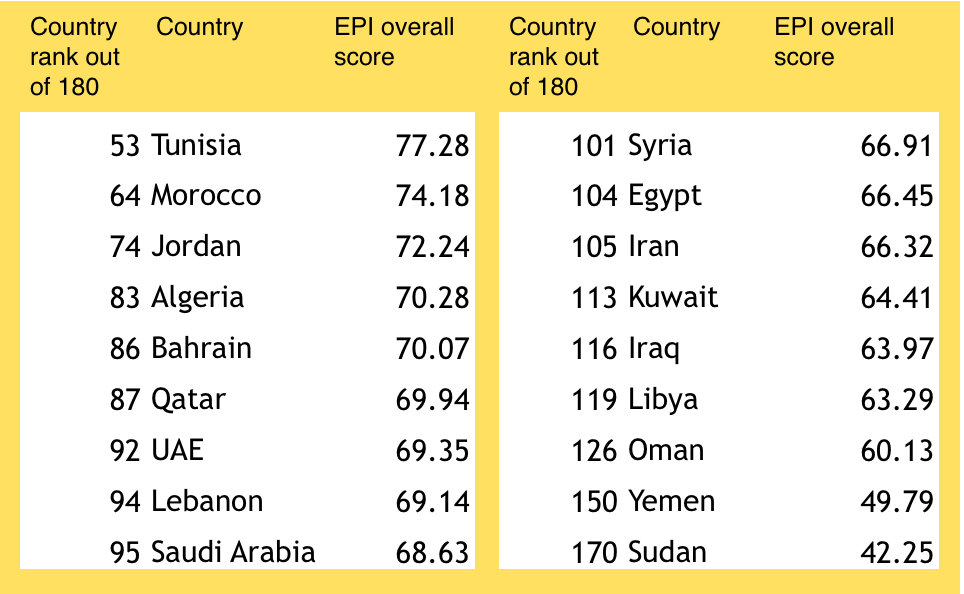 MENA countries in the global EPI rankings.



In 2014, Yale University launched the most comprehensive assessment of the world's environmental performance known so far. Now in 2016, a new report was released in February using updated and more precise data. Using a wealth of indicators, the Environmental Performance Index (EPI) grades 180 countries according to their performance across two key factors: their ultimate impact on human health, and on ecosystems.

This report from BECAUSE, while being by no means comprehensive, gathers and summarises some key findings for MENA from the Environmental Performal Index (EPI).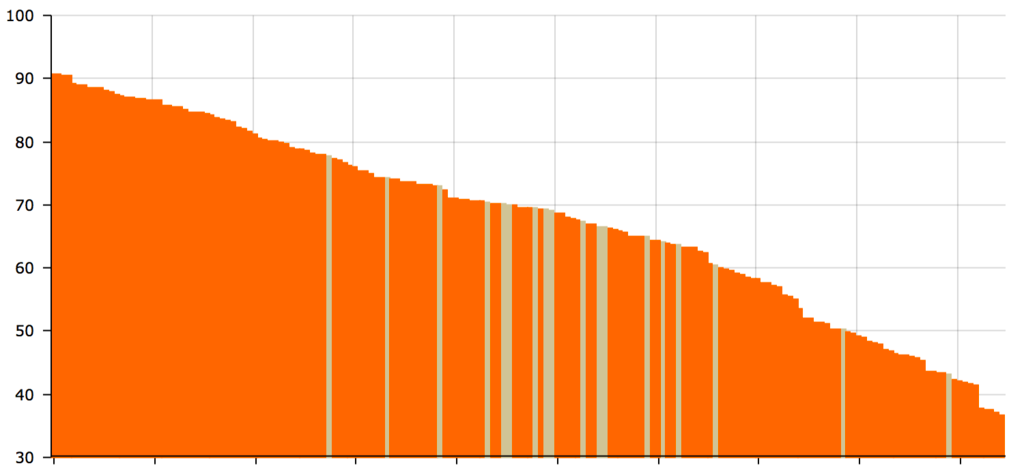 MENA countries (yellow) EPI scores alongside the rest of the world

Why rank countries at all? Simply put, it urges countries to look past the internal politics that often prevent environmental policymaking, and instead wake up to look at the global picture. This creates healthy competition and spurs improvement. Several countries have begun to adopt the EPI's indicators in policy areas, and the hope is that this will lead to measurable improvement. 

The graph below shows the (largely improved) difference shown in the 2016 report since the release of the 2014 one. 




MENA countries' EPI scores in 2014 (orange) compared to 2016 (yellow)

The EPI produces country rankings both for individual issues, and on this level some MENA countries are scoring high—Morocco and Yemen get a full 100/100 marks for agriculture, while the UAE and Bahrain are particularly strong on water sanitation and water resource management. But when the picture is averaged across the board, no MENA country is regarded as stellar when it comes to environmental performance.

What to take into account

The good news is that nearly all countries globally show distinct improvement across the board since 2014 (see MENA graph above). This, no doubt, indicates progress. However, some of the drastic changes in rankings can also be attributed to the EPI improving their data sources and refining how they are interpreted.

It may seem obvious, but it's also worth pointing out this is an environmental report, not a moral one: it's painful to see Syria, Sudan and Yemen so low on the scale when these factors are likely a symptom of bigger troubles. By contrast, when the failings of much more stable countries compare to those of unstable countries—such as the UK's terrible record on fisheries management and fertilizer use, or Saudi Arabia on climate change—that's when the question of actionable neglect can be much more fairly raised at home and within the international community.

Palestine is not named in the report. BECAUSE has enquired with EPI about what data, if any, the report has used, and the resulting methodology, and will update accordingly.

KEY ISSUES

Environmental risk exposure is comparably high across the region


One area where MENA crowds out the lower third of the list is on health impact factors, or what is called environmental risk exposure (ERE). "This indicator assesses hazards to human health posed by five environmental risk factors: unsafe water, unsafe sanitation, ambient particulate matter pollution, household air pollution from solid fuels, and ambient ozone pollution." 

Many of these factors are addressed on their own terms in the 'ecosystem' half of the report, but here the 'human health' half talks about how they shorten our lives. This depends on three things: how the risk factors combine (a country might have astonishingly clean outdoor air quality but unsafe drinking water); how a country is able to implement policy to manage and reduce the resulting burden of disease; and how behavioural factors exacerbate the problems. 


The highest entry on this list was Libya, ranked at 102 and scoring 66.31 out of a possible 100, with most following countries scoring between 65 and 55. Sudan, placed at 154, scored just 39.26.

Behavioural factors may be the biggest issue of all in ERE: for example, it is already known that behavioural aspects of cancer prevention (such as not smoking) is far, far more effective than cancer research at reducing deaths. "Environmental risk factors accounted for only 12.7% of the [Global Burden of Disease, or GBD] in 2013. Despite the environment's potent influence on human health, behavioral risk factors like smoking, driving, and dietary choices comprise the largest proportion, at 40.3%, of the GBD." 



Which leads to the next segment…

Car safety crisis for the region



Despite not seemingly being an environmental issue, MENA's road safety issues were enough for the EPI to devote a special segment to it. Normally, when a country's GDP increases, its road safety tends to as well, as road systems get upgraded. MENA bucks this trend. "Oman, Saudi Arabia, Iran and Libya are among the ten worst performers in global road traffic mortality and injury rates," states the report. High driving speeds, poor road planning, and lack of driving penalties and regulations are leading to a situation where "…traffic injuries are the leading cause of deaths for 10-35 year olds."

Air quality is now an urgent issue for MENA


One big surprise of the report is that globally, air quality is responsible for five times as many deaths (around 10%) as water sanitation (around 2%). This can be explained by the fact that, as countries develop and industrialise, they can afford to invest in upgraded water systems. No such investment happens for air pollution, so "half the world's population now lives with unsafe air quality."



If you live in MENA, you can make an odds-on bet that you are one of them. Only two MENA countries (Libya, ranked 73rd, and Oman, 75th) even enter the list above rank 100. Collectively speaking, it is the region's poorest measure. 

EPI measures our exposure to Nitrogen Oxide (NO2), which comes from the burning of fossil fuels. It is harmful in itself, and in its association with ground-level ozone (O3). There is also fine particulate matter, which is basically all material in the air small enough to enter—and often lodge in—the lungs. Thirdly, and disproportionately affecting poorer families, is indoor pollution, which comes from cooking over a solid-fuel stove. All this contributes to the exacerbation of health issues associated with heart disease and respiratory diseases, and "in severe cases, this pollution contributes directly to fatalities."

Air quality is a red-light issue for the whole world, as recent reports from Paris and London show. "While air pollution in developed countries is primarily the product of industrialization and urbanization, air pollution in many developing countries commonly has a different source: biomass burning." Those MENA countries with both megacities and developing rural areas may be doubly burdened: for example, Egypt has excessive traffic pollution in the megacity of Cairo, while its rural rice straw burning blights the whole country seasonally.

Ending fossil fuel subsidies will especially help MENA's environmental targets

Sudan and Yemen both have a zero impact on climate change; while at the bottom of the scale Oman's climate and energy score is at just 23.83 out of 100, placed 113th on the list. 

The environmental argument against subsidies is compelling: as long as fossil fuels are subsidised, it is barely possible to make an economic argument for renewables, and climate change prevention is stalled. Though the International Monetary Fund in 2014 estimated that half the world's fuel subsidies come from the MENA region, the G20 nations' own subsidies exceed the the world's entire investment in renewable energy in the world, four times over.

 This does not make an even playing field for renewables to survive on the open market.

Wherever one is, reducing fuel subsidies is not only a hard sell politically, but it is exceedingly difficult to manage without immediate and devastating impact on the poorest segments of society. Yet "reflecting the true cost of energy in fossil fuel prices could drive down greenhouse gas emissions by as much as 24 percent, with the largest percentage reductions in emissions occurring in Asia, the Middle East and North Africa."

Egypt has already taken the initiative, liberalizing the energy market, and implementing a cautious five-year plan to phase out energy subsidies.



It's not just about having the money to go green…


The EPI report states: "Many wealthy Organization of the Petroleum Exporting Countries (OPEC) countries, including Kuwait, Qatar, Oman, and Saudi Arabia, underperform on environmental performance relative to similar economic peers." By contrast, while Sudan and Yemen are ranked low overall, they are barely contributing to climate change or nitrogen use inefficiency just by virtue of their comparatively poor economic situation.

In fact, high EPI rankings closely correlate with two factors: economy, and governance. But as the OPEC countries in MENA show, strong economies don't automatically spell strong performance. As the EPI report says, governance takes precedence as the key factor that truly determines environmental performance. "Only well-functioning governments are able to manage the environment for the benefit of all."

This is possible in many places in MENA, but the will from both state and non-state actors must be leveraged.

Unless otherwise stated, all quotes and data are from the EPI report. 




Image: Axel Drainville, shared via Creative Commons licence CC-BY-NC 2.0